Project Description
On Vanitas & Me and my Submarine. 
Ted Noten's show at Rademakers Gallery Amsterdam, the Netherlands. Reviewed by Marley White.
Ted Noten is known to push boundaries. Connecting the space of making to the place of viewing, he once moved his entire studio to Museum Boijmans Van Beuningen and remained behind in the empty space for the duration of the exhibition and in Galerie Rob Koudijs Noten displayed white sheets of paper with words like "brooch" and "necklace", together with the price, leaving the piece to the consideration of the buyer. How does Noten push this boundary further? In this new series of work we are no longer given a glimpse into the studio or the process of the work; we are, in his words, "dropped straight on to the highway that is inherent to my creation process." The typical gallery shows us a calculated glimpse from the mind of an artist, but why not produce an exhibition that recklessly lets the viewer enter the chaos? 
In this show the gap between "a piece in the making" and "a piece that is made" begins to disappear. 
Ted Noten shows Vanitas, an expose of his most recent work, alongside Me and My Submarine, a curation from his archive of the work he has kept physically present throughout his practice. We walk up the stairs of the gallery and find three long tables in the center of the room; there are a few other pieces placed in the room, but our focus remains predominantly on the table: Vanitas, alternatively titled, Me and My Table. Huge letters sprawl across the floor in Noten's signature yellow spelling out "Me and My Table". This is his table, his studio, his critique. 
Vanitas; aka. Me and My Table.
The series is raw, complex, even bizarre, and it is apparent that each decision made was painstakingly considered and then beautifully crafted. Vanitas is composed of eight intuitive, gestural sculptures. These pieces function as contemporary "sketches" commenting on our society through wonderfully absurd anecdotes. Noten had to fight himself for this work. His goal, derived from Duchamp's noted words "I force myself to contradict myself in order to avoid conforming to my own taste" brought about a new way of making. No longer was he carefully considering the context and conceptual impact of pieces with striking aesthetics. He trusted his impulses, bringing forms together that embody his thinking on  contemporary themes of society. The result leaves us with an unobstructed look into the mind of the maker.
 There is a bird skeleton being transfused with swarovski crystals while a tiny feathered bird body rests inside its bones above the shell of a bumble bee resting carefully on the foot of the skeleton; the figure stands in a sea of shimmering crystals framed by a black platter. At the tail end of Ted's Table, a toad shouting slang in golden letters is perched atop a solemn faced royal blue podium. Between these two pieces we are confronted with notions of love, religion, the passage of time, the minuteness of existence, greed, and the power of nature. The expansiveness of Vanitas is carefully bound together by delicate narratives and the meticulous attention to detail.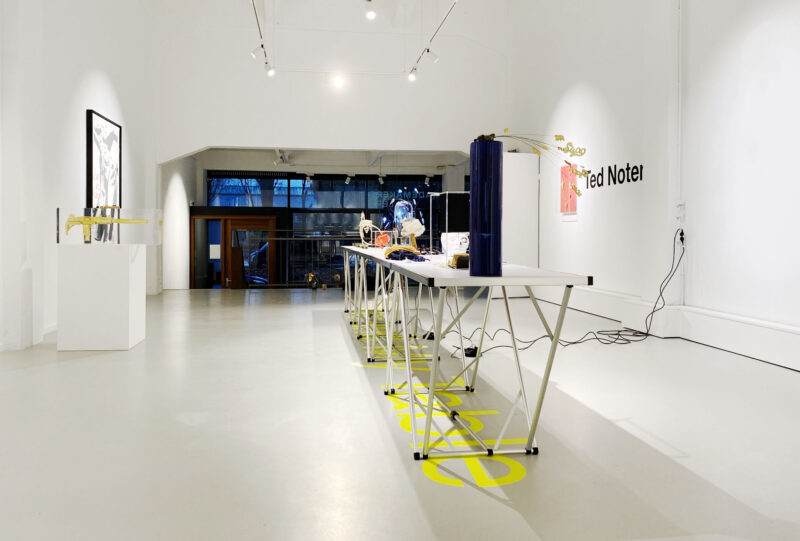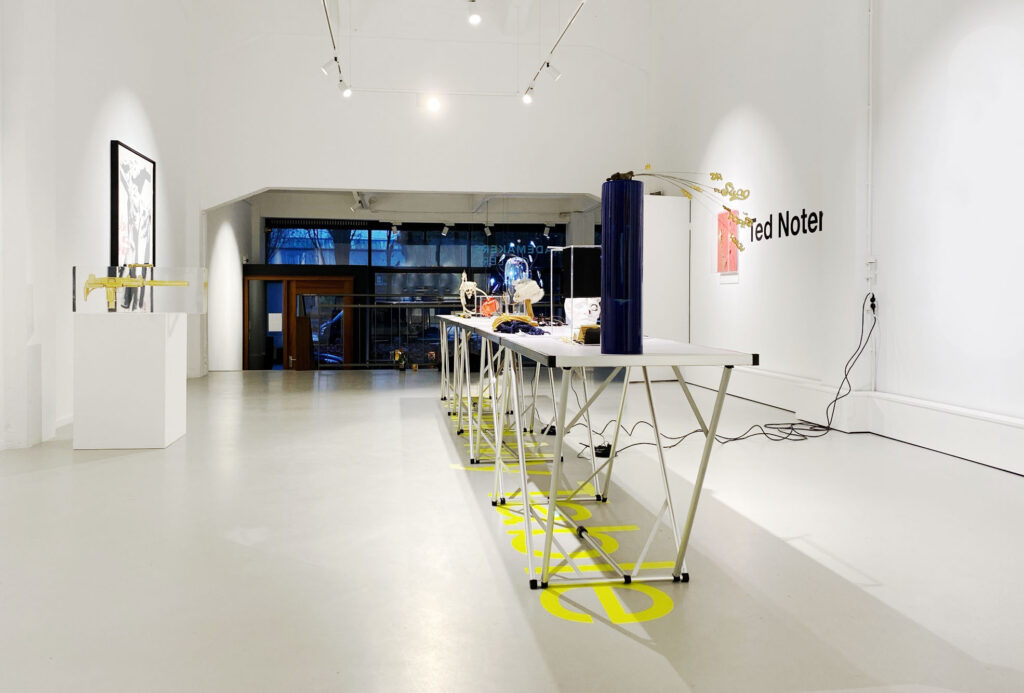 Me and My Submarine. 
The room is small and black, gold rings hang from the ceiling and diamonds catch the light; there is a hot pink safe without a key and a clear suitcase containing a particularly large rat that has a proportionally oversized diamond caught between his teeth. Me and My Submarine is a concentrated dose of Atelier Ted Noten. Throughout his twenty two years of making his studio has retained more than a few of his pieces, work that either enabled a turning point in his practice, work he developed an attachment to, or that has frankly slipped his mind. This micro-exhibition represents the extreme range of Noten's practice.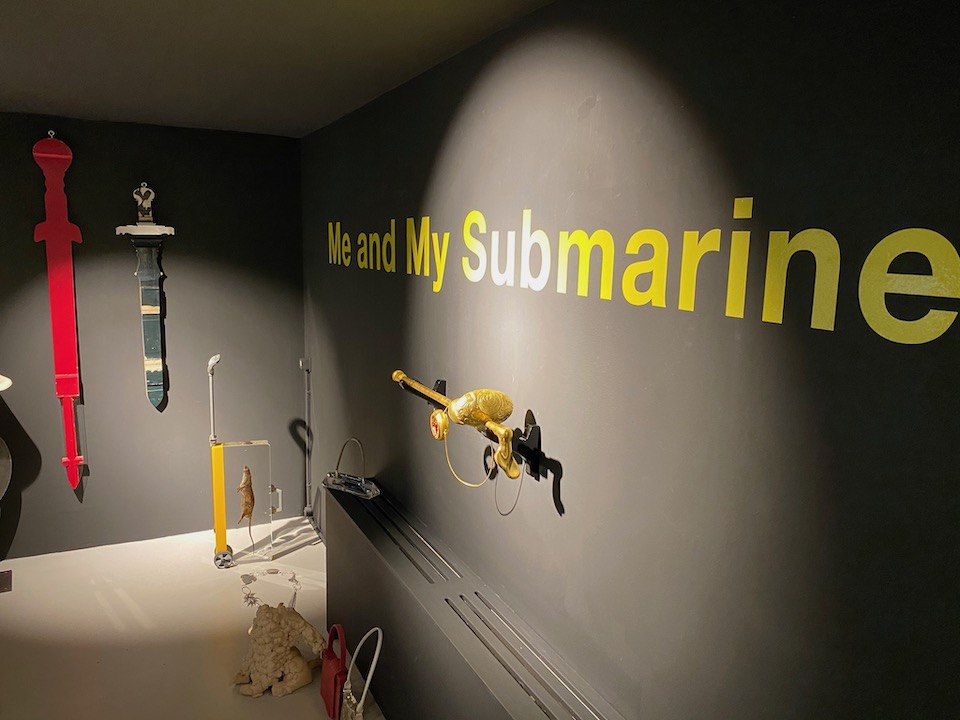 Me and My submarine in combination with Vanitas brings a new consideration to this most recent body of work. Noten creates stages of comprehension. Immediately we are met with Vanitas and are brought into Noten's unprecedented critique on contemporary life. Subsequently when entering Me and My Submarine, we are given a look into the mind and history behind this latest work, altering the way we relate to and interpret Vanitas. Knowing the psychological impact of the physical presence of these remaining pieces, Noten has taken it upon himself to "stop tripping over them in his studio". Aiming to contradict himself and keep from affirming his own taste it is integral that the palette is clean. Offering these works up to the spectator he reveals to us a portion of the mystery behind his work, leaving it to us to decipher the overlapping themes that run throughout.
Film courtesy of Pien at Rademakers Gallery.